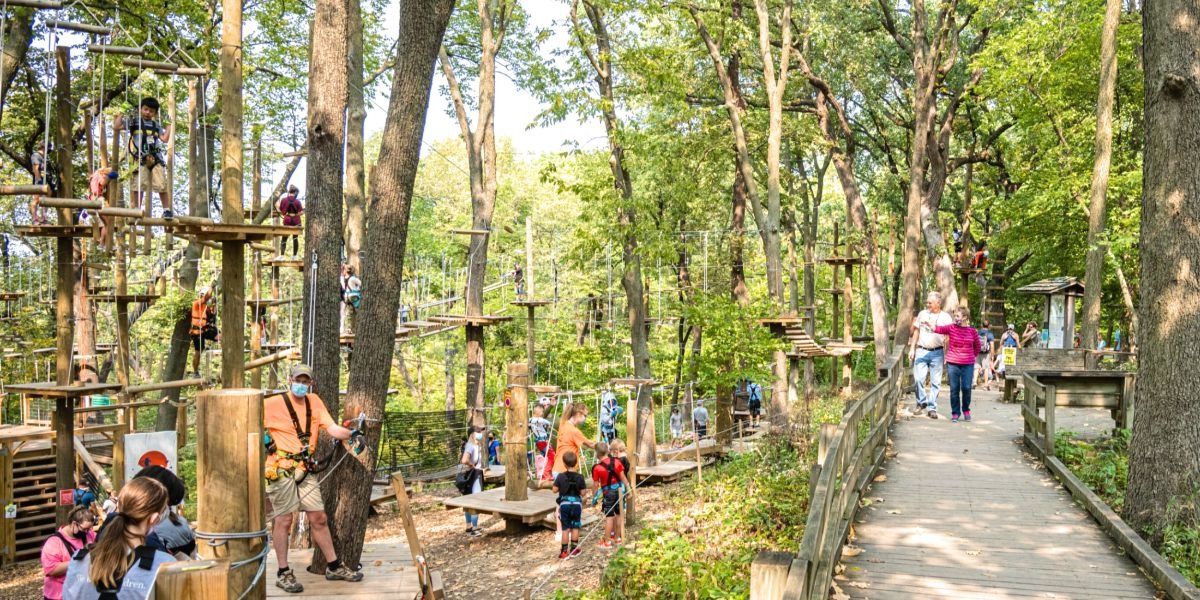 Welcome to your TreeRush Adventure Stop!
TreeRush offers 10% Off Climbing & Zipping to 2021 Nebraska Passport Travelers.
We are excited to welcome you to TreeRush Adventures during the 2021 season as a stop in the Nebraska Passport Program. At TreeRush, fun-seekers ages four and up discover climbing and zip lining excitement. The park's two attractions – TreeRush Adventure Park and KidRush Adventure Park –include bridges, zip lines and swings made from wood, cable and rope just out the back door of the Fontenelle Forest Nature Center. Your adventure includes two hours of climbing after we get you into gear and you become comfortable using our always-locked-on climbing equipment. Plan to spend about 3 hours with us – and make a lifelong memory. 
As a Passport Traveler, you'll receive 10% off tickets for climbing and zipping for up to six adventure seekers. Reservations are required and can be made by clicking one of the options below. At checkout, use the Promo Code "PASS21" to apply your discount. 
 For More information about the TreeRush Experience, Click the Button below.
Want a 60-Second Rush?
Get a glimpse of TreeRush Action in this one minute video!
WHAT OUR FANS ARE SAYING…
"Wonderful experience getting back out to TreeRush. The staff have adapted spectacularly to provide a safe, clean, and VIP like experience. The team is detail orientated and dedicated to your safety and overall fun experience. This is our family's favorite way to challenge ourselves and enjoy the outdoors in Omaha."
– K. Hauser, Google Review
"The ropes and zip line course at TreeRush is totally worth the cost. Not only is it a fun and (at times) challenging workout, you have the opportunity to take in some of the beautiful scenery of Fontenelle Forest. I brought my daughters – age 7 and 10 – and was very happy with the COVID safety protocols…. Everyone in my family wants to go back, my husband and I have discussed doing a date night to check out some more advanced courses. Highly recommend!"
– Christine H., Yelp Review