Holiday Gifts and Season Passes
Holiday Gift Packs In Three convenient "Sizes"

2-Packs  ♦  4-Packs  ♦  10-Packs

Amid the clutter of things, give those you love the gift of an adventure experience.
Give them time in the fresh outdoor air. Let them discover ways to harness their sense of balance, their strength, and their endurance while maneuvering through treetop obstacles. Give the thrill of pushing beyond nervous jitters to an empowered swagger. Provide the rush of excitement shared with others and connected to the rhythm of nature. 
Holiday Gift Packs provide tickets to TreeRush for ages 7 and up. Tickets can be used any day the park is open with no blackout times and they never expire. You can gift these tickets to one person, or divide them among several fun-loving thrill seekers on your gift list.
Click the Buttons Below for Up to 40% Savings!
Choose a TreeRush Gift Card for the Perfect Fit!
A TreeRush Gift Card offers the flexibility of providing a contribution toward an outing or the exact number of tickets required by your tree climbing group. Here are our top five reasons for purchasing a gift card:
5. Clothing? Fun? Clothing?…. FUN!
4. Everyone needs a dose of refreshing outdoor excitement!
3. Great for people bored with the "same-old-same-old."
2. Cards can be purchased for $5 or more.
1. You can add a little extra and join them in the trees!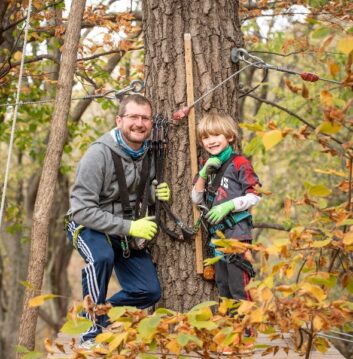 Season Passes: The Drop-Everything-and-Go-anytime Ticket to Fun!
With a season pass, your lucky someone(s) can adventure out whenever the mood strikes them. In addition, they'll get the following perks:
🎄 Unlimited Admission to TreeRush Adventures for the pass holder;
🎄 Easily reserve climbs online whenever the park is open with no blackout times;
🎄 50% off general admission tickets for 4 guests who take to the trees with the pass holder;
🎄 30% Off TreeRush merchandise;
🎄 Bypass the Equipment Briefing (Normal Rules Apply).
Choose from the Options Below: