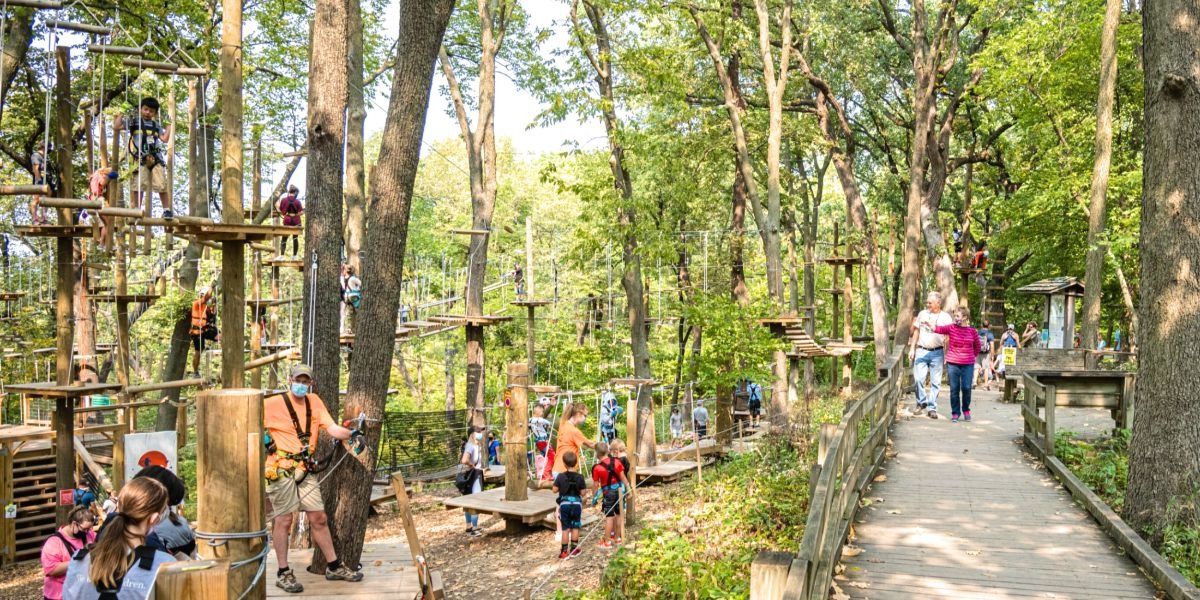 TreeRush Hours & Pricing
Book On Line to reserve your climbing time OR walk right In and we'll get you into the trees as quick as we can.
Experience the rush with family, friends, coworkers and teammates.
Guests ages 4 to adult set their own pace while navigating treetop trails offering various degrees of challenge.
TreeRush Adventures now open!
"Life moves pretty fast. If you don't stop and look around once in a while, you could miss it."
— Ferris Bueller
TreeRush Adventure Park
KidRush Adventure Park
Birthday Parties
Group Outings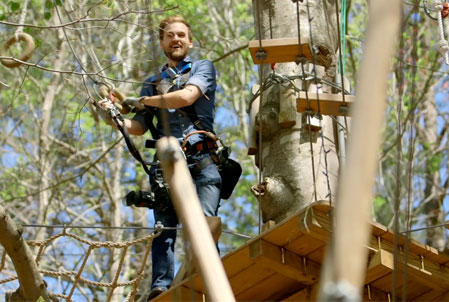 TreeRush Adventure Park
Our premier attraction offers climbing fun to ages 7 through adult. Harness up then climb up to our main platform. Then, choose from seven color-coded trails. Yellow trails are about 10 feet from the forest floor and introduce the excitement of climbing to beginners. Green and Blue trails offer intermediate climbers an opportunity to test their balance, strength, flexibility and endurance. Our Black course challenges experts. The most difficult trails will get you up to 55 feet above the ground!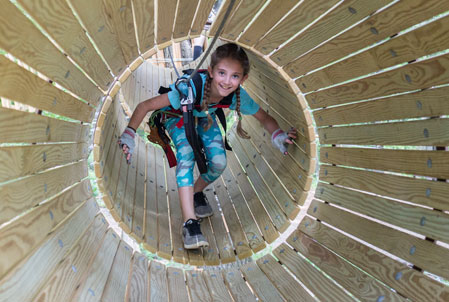 KidRush Adventures Park
Pint-sized thrill-seekers experience the joy of physical accomplishment while a guardian walks beside them – or not. This area is ideal for kids ages 4 – 6. Challenges are similar to those provided to the "big kids" and include swinging wooden beams, tunnel crawls and zip lines. These elements, however, are built to scale for smaller bodies and are just a few feet off the ground.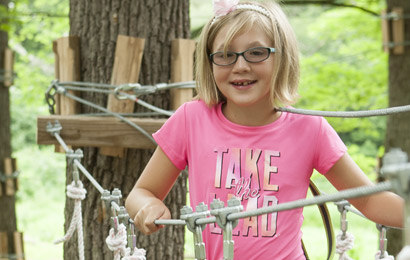 Birthday Parties
Kids (and boyfriends, wives or besties) say a TreeRush adventures is the "Funnest Birthday Ever." Party planners say it's the easiest celebration they've ever pulled off. Contact us. We'll set up a reservation ideal for you and 5 – 50 guests. Receive 10% off regular admission for up to 9 guests. Receive 20% off regular admission for 10 or more. Two-hour parties include:
Electronic and printed party invitations;
A reserved picnic table for your celebration;
A dedicated party host and special attention with harnessing, briefing and practice before climbing;
Party favors and a Buy-One-Get-One pass for each guest; and
For the guest of honor: a birthday swag bag including a pass for a free return to TreeRush Adventures.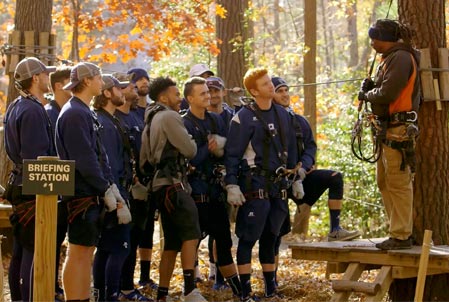 Group Outings for Youth and Adults
TreeRush is a magnet for groups of outdoor-fun-loving kids, teens and adults. Reserve a starting time for your gang with special rates for groups of youth OR adults.
Our team can welcome your gang with activities that set the stage for bonding in the treetops. Looking for team development or leadership training? We've got programs to foster relationships, enhance communication, bolster trust, and spark creative problem-solving.
Bring on your students, scouts, youth groups or families. Gather your co-workers, dodgeball team, meet-up group, or wedding party. You bring the gang. You'll find the fun at TreeRush.