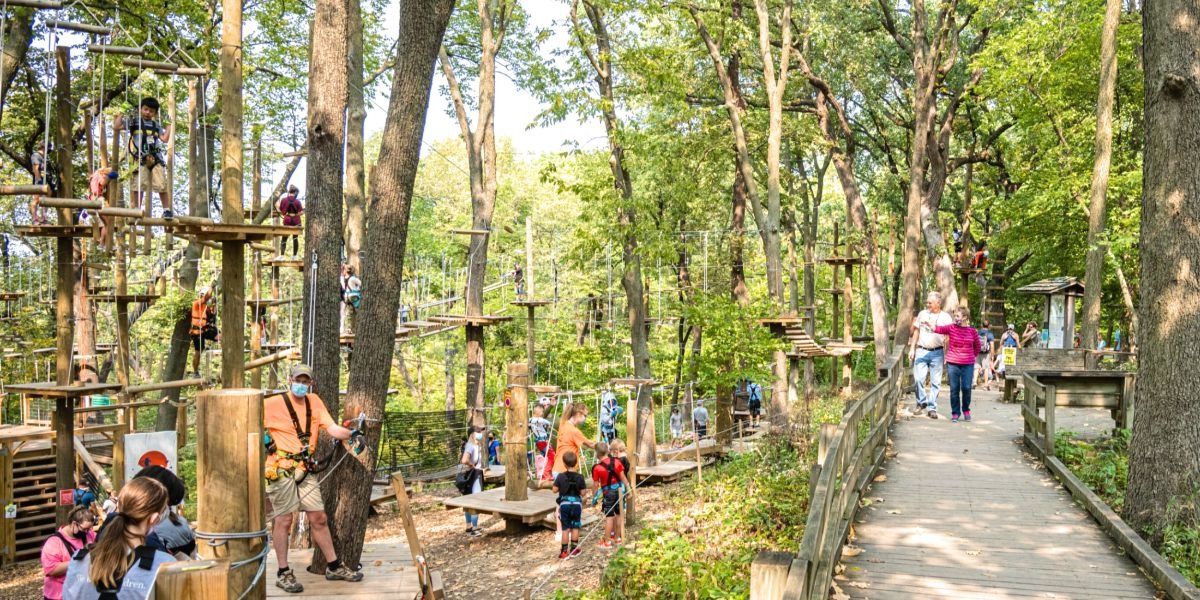 FAQ's for TreeRush Adventures at Fontenelle Forest
What is TreeRush Adventures at Fontenelle Forest?
TreeRush Adventures provides climbing and zip lining excitement to fun-seekers ages four and up. The park's two attractions – TreeRush Adventure Park and KidRush Adventure Park – include bridges, zip lines and swings made from wood, cable and rope just out the back door of the Fontenelle Forest Nature Center.
TreeRush Adventure Park suspends over 6 acres just north of the Nature Center. After an equipment briefing, guests ages 7 to adult climb into a main tree platform where they can choose from 8 different trails that are color-coded according to the level of difficulty. Trails are marked beginner to expert. They consist of over 119 challenging elements made of rope, cable, and wood, and include more than 19 zip lines. The most challenging trails are up to 55 feet above the ground.
KidRush Adventure Park is a climbing area like our signature park but built to scale for younger climbers ages 4 – 6. It includes five trails with 26 challenges for kids to do again and again. On KidsRush, trails are just a couple of feet above the ground, allowing pint-sized thrill-seekers a chance to experience the joy of physical accomplishment while a guardian walks beside them. (Supervision is required by an adult age 19+ at a ratio of 1 adult for every 2 children.)
Is there an age limit for climbing at TreeRush?
KidRush is for ages 4 – 6. TreeRush Adventure Park – our signature attraction – is for climbers ages 7 through adult. Age restrictions do apply to some of our more difficult trails. Our more challenging trails may require a child to reach or step beyond his or her physical capability. This graph provides information about trail age recommendations.
                   Supervised: An adult (19+) guiding children (1 – 10 children) from the park ground.             Accompanied: An adult (19+) must accompany children on the course (2 children/adult max)
Yellow
Novice Courses
Beginner courses with platforms 10 – 12 feet above the ground.

Ages 7 – 11 with adult supervision
Ages 12 – Adult

Green
Intermediate Courses
Courses introduce climbers to heights up to 20 feet above the ground.

Ages 7 – 9
accompanied by an adult
Ages 10 – 11
with adult supervision
Ages 12 – Adult

Blue
Advanced Courses
Courses introduce climbers to heights up to 35 feet above the ground and to crossings that require agility, balance, and strength.

Ages 7 – 9
not recommended
Ages 10 – 11
accompanied by an adult
Ages 12 – Adult

Black
Difficult Courses
A challenging course with heights up to 55 feet above the ground and increasing demands for agility, balance, strength, and stamina.
• Ages 12 – 14        accompanied by an adult
• Age 15 – Adult
Where is the entrance to TreeRush Adventures?
The main entrance to TreeRush Adventures is at the Fontenelle Forest Nature Center, located a 1111 Bellevue Blvd N in Bellevue, NE. The park is less than six miles from Omaha's Old Market. Free parking is provided.
When is TreeRush Adventures Open?
General Admission:

Summer Hours: May 26-August 10: Open EVERYDAY 9am-10pm

Autumn Hours: August 11- September 30 Open EVERY Thursday, Friday, & Sunday 10am-6pm Saturday- 9am-10 pm

October – Stay Tuned! Haunted TreeRush!

Group Admission:

Reserve for Groups of 20+. Call 402-316-7038 for info.

Private Guided Group Adventures:

Want to schedule "Tree Time" when the park is closed to general admission? Book an exclusive tour with your family, friends, or a special group of 6 people or more. Click to learn more!
Our Guest Services Office is open Daily, 10 – 4.
How long does it take to experience TreeRush Adventures?
Main Park tickets provide a three hour experience. Each guest climbs through the trees at their own pace. Each of our 8 trails may require 15-45 minutes to complete. Upon completion of one trail, a climber returns to the main tree platform to repeat the same trail or select another trail, continuing for the duration of their timed ticket. KidRush tickets provide a two  hour adventure.
Guests three hour experience includes about 40 minutes preparing for your climbing adventure. This including harnessing, equipment briefing and practice.
Each guest decides how much of their time they use for climbing. Most want to climb every minute they can!
Are reservations required at TreeRush Adventures?
We strongly recommend reserving General Admission Tickets online at www.TreeRush.com. When you use our online reservation system, you help us monitor the flow of guests into the park, and save $5.00!
When you make an online reservation, you also can complete waivers online before you come to the park. Please do this. When you do, it reduces your check-in time so you can start your adventure quickly!
When you arrive, our team members will get you into the trees a quickly as possible. Please arrive a few minutes before you scheduled time. If you are late we cannot guarantee your reserved climbing spot.
It is recommended that groups of 8 or more contact our Group Sales Office at least two weeks in advance of a desired reservation date. We will attempt to accommodate last-minute group reservation requests, but options may be limited and cannot be guaranteed. When you make your reservation, you will receive a confirmation email and a link to an online waiver so that all members of your party can complete waivers before arriving at the park.
What does TreeRush Adventures cost?
General Admission prices for 3-hour tickets are as follows:
| | |
| --- | --- |
| | General Admission |
| TreeRush Ages 12+ | $59 (Book Online Save $5!) |
| TreeRush Ages 7 – 11 | $48 (Book Online Save $5!) |
| KidRush Ages 4 – 6 | $14 |
"Try-It Tickets" are available for ages 7 – adult, and are available certain days of the week 2 hours before closing time. The cost is $45 (Save $5 is booked online!). Be aware that the park closes at 8 pm and we begin to close our most difficult trails 45 minutes prior to closing time, so guests may not be able to access all 8 courses with the purchase of a "Try It Ticket". Other discounts or offers cannot be applied to this purchase.
Is there a discount for Fontenelle Forest Members, seniors, first responders, and active or retired military?
Yes. The discount for these guests is 10% off regularly priced general admission tickets. The discount cannot be combined with other special offers or applied to already discounted tickets. Reservations must be booked over the phone to receive the discount. Please call (402) 316-7038 for assistance.
What if my plans for a General Admission adventure change and I need to cancel my reservation?
We understand that plans can change at the last minute. If you need to cancel your general admission adventure, you can do so up until the time of your scheduled reservation. When you do, a gift card will be automatically generated and emailed to you. This gift card can be used toward a future climb at the park. You can use the total value of this gift card in one visit, or for multiple visits. If you do not cancel your reservation before your scheduled arrival time, no gift card will be issued. Group reservations scheduled with our group sales office may be subject to other policies and will be discussed when making your reservation. Please call (402) 316-7038 or email [email protected] to cancel your reservation.
Can I schedule a Birthday Party at TreeRush?
Absolutely! In fact, TreeRush Adventures has become one of the most popular birthday destinations in Greater Omaha. Book parties at least two weeks in advance to receive a significant discount for five or more guests. Our 3-hour parties include a reserved table, a party host and special attention during harnessing, briefing and practice in preparation for climbing. Each guest receives park swag and a BOGO pass for a future visit. The guest of honor receives VIP swag and a pass for a free return visit to TreeRush Adventures. Please call (402) 316-7038 to reserve your celebration.
Are group rates available for specialty groups, team bonding and team development?
TreeRush Adventures at Fontenelle Forest is a magnet for outdoor-fun-loving kids, teens and adults. Groups of 8 or more can reserve starting times with seasonally available special rates. Local and visiting groups of students, scouts, youth groups, families, co-workers, sports teams, singles, conventioneers, and active adult tours climb in the park. We also provide team bonding and team development programs for corporate clients, community organizations, students, teams, and clubs. Spaces fill up quickly. Call (402) 316-7038 for reservations.
Does the ticket I buy for TreeRush Adventures also include admission to Fontenelle Forest?
TreeRush Adventures and Fontenelle Forest are separately ticketed activities. Guests of TreeRush Adventures are not required to purchase tickets to Fontenelle Forest in order to climb and zip.  Admission to TreeRush Adventures does not include access to Fontenelle Forest exhibits and walking trails. If you desire to explore Fontenelle Forest, please purchase a day pass and support the mission of this not-for-profit organization.
Is a ticket required to watch my friends or family members climb?
Observers can receive a complimentary admission to pathways and observation areas under the aerial trails of TreeRush Adventures. We ask that observers purchase a day pass from Fontenelle Forest if they desire to explore walking trails or exhibits provided by this not-for-profit nature center.
How am I protected when climbing at TreeRush?
All climbers wear state-of-the-art harnesses and climbing equipment that meets the highest industry standards. Climbing equipment employs "double-clipped-on" technology designed to keep the climber continuously connected to a secure cable throughout their time in the trees. Climbers receive an equipment briefing and opportunities to practice before climbing into treetops. Course staff members monitor climbers while they are in the air. These monitors are nearby to offer encouragement, advice, or assistance as needed.
Is TreeRush Adventures Difficult?
TreeRush Adventures provides color-coded trails to make it easy to choose a climb that provides the level of challenge you seek. Beginners develop their confidence and climbing skills on 2 Yellow trails. Intermediate climbers enjoy the challenge of 3 Green trails and 2 Blue trails. Our most athletic climbers enjoy the challenge of our Black Diamond trail that spans through the trees up to 55 feet above the forest floor.
Do I have to be really fit to do the trails?
Most people who have an active lifestyle and are in good health should not have any difficulty completing many of the trails. Climbers proceed at their own pace and are welcome to take periodic breaks. Remember, climbers can choose trails within their comfort levels. Please, however, consult a doctor prior to participating if you are pregnant or have a pre-existing medical condition or injury that could be aggravated by engaging in this activity.
Is TreeRush Adventures certified?
TreeRush Adventures is built and operates in accordance to the standards of the ACCT (Association for Challenge Course Technology). The ACCT standards are among the most stringent ropes course safety standards in the world.
What happens if it rains or storms?
When inclement weather arrives, TreeRush Adventures responds much like a golf course or a swimming pool facility. The park remains open during rain, but climbing is suspended in the event of thunder, lighting, or damaging winds. When these conditions occur, you may reschedule your visit or receive a gift card valued for the amount you have paid. Please call (402) 316-7038 for assistance.
What clothing should I wear?
Wear well-fitting clothing that will not hang loose or get tangled in cables or ropes. We advise tying back long hair and removing all jewelry. Sneakers or hiking shoes are recommended. Flip-flops, CROCS, sandals, and open-toed or open-heeled shoes are not acceptable.
What equipment is provided?
A harness and climbing gear are provided with the purchase of your climb. Gloves are required. You are welcomed to bring your own gloves that are suitable for climbing or purchase pairs from us.
Is there a weight limit for climbing at TreeRush?
Our weight limit is 275 pounds and all guests must fit into harnesses provided in accordance with the manufacturer's specifications.
Are private or group lessons available?
All guests receive an equipment briefing and time to practice before climbing, so lessons are not required. Please contact our Guest Services Team with specific questions about how our staff are able to assist guests in the park: (402) 316-7038.
Can I wear a bag or bring a water bottle on the courses while I climb?
While we do not allow guests to bring bags or water bottles on the course while they climb, TreeRush provides a limited number of lockers and storage cubbies for these items and use is at the discretion of guests. TreeRush is not responsible for items lost or stolen.
Is food available for purchase?
The Fontenelle Forest gift shop provides a selection of drinks and snacks during most park operating hours. Fontenelle Forest may limit gift shop hours and product availability. We are happy to help you with catering options for birthday parties, team parties, family celebrations, group picnics, and corporate events. Call (402) 316-7038 for catering information.
How can I find out more details about TreeRush Adventures at Fontenelle Forest?
Do you operate rain or shine?
Operations are weather permitting dictated by temperature and precipitation.