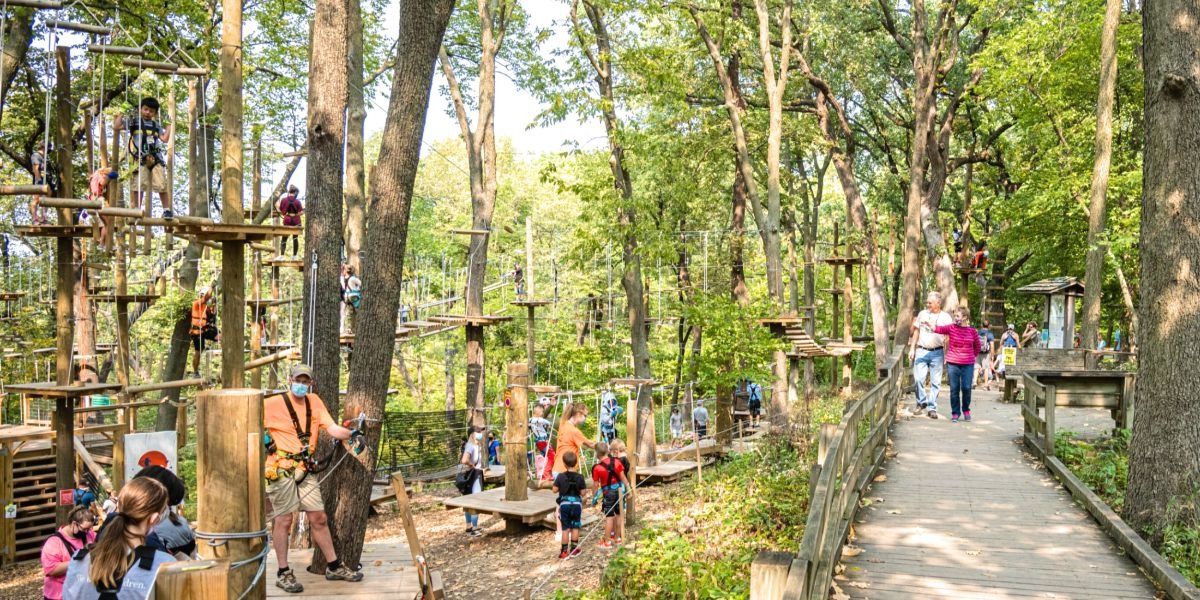 PARK RULES
WHILE USING THE PARK, YOU MUST:
Weigh less than 275 lbs.
Consult with your physician before participating if you are pregnant, have a heart or other serious health condition, or you are unsure of your physical ability.
Understand and accept the risks involved.
Always wear protective gloves while climbing our Main Park courses
Attend a safety and equipment briefing before entering any course.
Observe and follow instructions on all posted signs given by Park staff.
Always wear closed-toe/closed-heel shoes or sneakers. Do not wear sandals, CROCS, or flip-flops.
Wear harnesses appropriately fitted over the outer-most layer of clothing.
Ensure a staff member checks your harness connections throughout your visit and especially before resuming climbing after removing your harness for a break.
Never share your harness.
Meet the age requirements established for each course.
ALWAYS have at least one carabiner attached to a marked attachment point.
Start with a yellow or green course if you are a first-time guest.
Do not use an element when another person is on it – one person at a time.
Have no more than three people on a platform at the same time.
Not climb or zip line if under the influence of alcohol or drugs.
Avoid carrying phones, cameras, or other objects in a way that they may fall or distract you or others.
Tie back loose hair and secure clothing or objects that can get caught in ropes or zip lines.
Refrain from smoking or vaping while on TreeRush or Fontenelle Forest property.
Carry out all objects that you bring into the Park, including all trash.
Ask for assistance if you have any questions while using the Park.
Park management reserves the right to ask anyone in breach of these rules to leave the Park. During extreme weather conditions, you may be asked to evacuate the Park.
Agritourism WARNING
UNDER NEBRASKA LAW AN OWNER OF PROPERTY, INCLUDING LANDS AND WATERS, IS NOT LIABLE FOR THE INJURY TO OR DEATH OF THE PARTICIPANT IN AGRITOURISM ACTIVITIES OR DAMAGE TO THE PARTICIPANT'S PROPERTY RESULTING FROM THE INHERENT RISKS OF SUCH ACTIVITIES. INHERENT RISKS INCLUDE, WITHOUT LIMITATION, THE RISK OF ANIMALS AND LAND AND WATER CONDITIONS, THE ORDINARY DANGERS OF STRUCTURES OR EQUIPMENT ORDINARILY USED IN FARMING OR RANCHING OPERATIONS, AND THE POTENTIAL FOR YOU OR ANOTHER PARTICIPANT TO ACT IN A NEGLIGENT MANNER THAT MAY CONTRIBUTE TO YOUR OWN INJURY OR DEATH. YOU ARE ASSUMING THE RISK OF PARTICIPATING IN THE AGRITOURISM ACTIVITIES FOR WHICH YOU ARE ENTERING THE OWNER'S PREMISES.
R.R.S. Neb. 82-601. – 607.