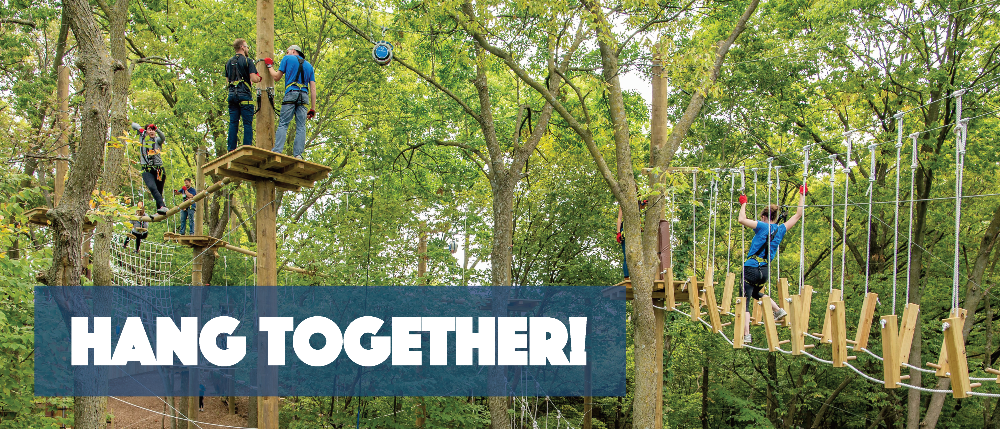 Hang with your Gang!
special rates for groups of youth OR adults.
TreeRush is a magnet for groups of outdoor fun-seekers. Bring on your students, scouts, youth groups or family members. Gather your co-workers, dodgeball team, meet-up group, or wedding party.
You bring the gang. You'll find the fun at TreeRush!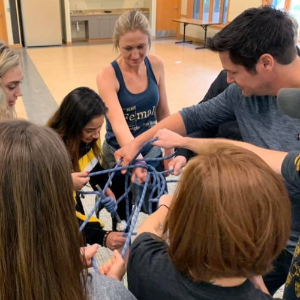 Group members naturally create patterns of offering advice, hollering  encouragement and hooting in celebration when they climb together at TreeRush. But if you want an experience even more unifying, TreeRush Facilitators can welcome your gang with activities that set the stage for enhanced bonding in the treetops. Looking for team development or leadership training? We've got programs to foster relationships, enhance communication, bolster trust, and spark creative problem-solving. Check out what group leaders say about us.
"Awesome experience! Great for team building and stepping out of your comfort zone. Staff was excellent and worked well with our large group. Everyone who participated felt challenged and came away from the experience wanting to do it again. Definitely recommend. Black courses require a decent level of physical fitness, but there are still courses for people of all ages/fitness levels."
– AFROTCDet470, TripAdviser Review
"I appreciated how the staff worked with me to schedule my girl scout group…. I found the staff very helpful, accommodating and easy to work with. The attraction itself is phenomenal."
– reiterr2019, TripAdvisor Review
Group Rates vary based on group size and Guest age range.
Discover how easy it is to Bring a Group to TreeRush.
Our minimum group size is 8 people. Ask us about options for smaller groups. In addition to group rates during general admission hours, TreeRush can be booked for exclusive use to larger groups during our "off-season". Contact us for information about booking your group during "off-season" days.
DOWNLOADABLE PDF FLYERS
Great info to know on the go! Click the button below to download.