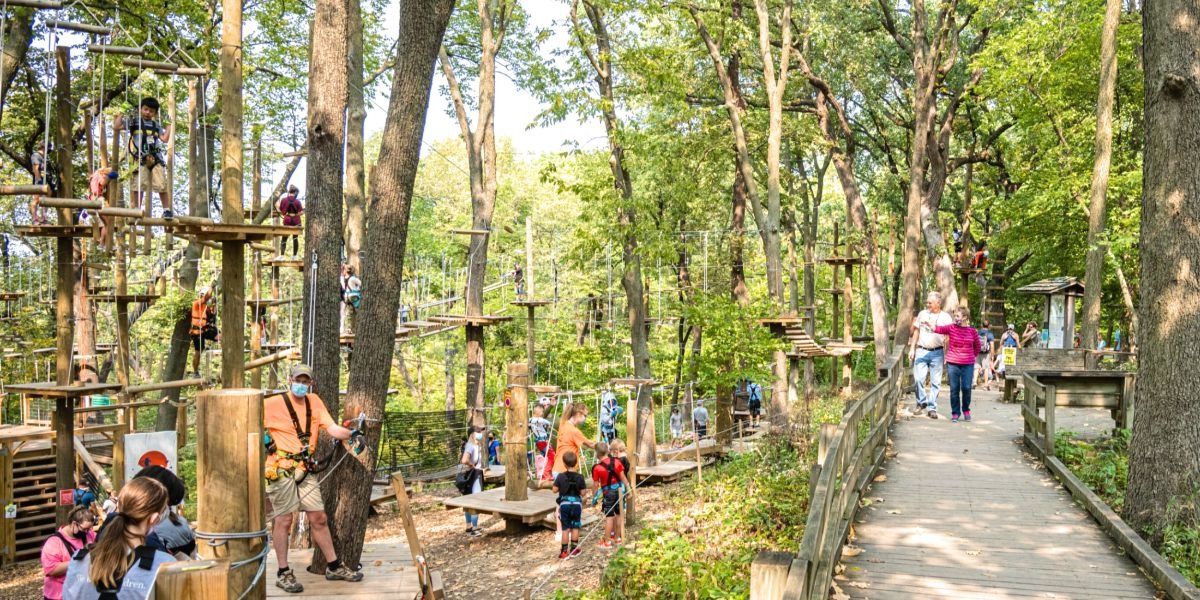 Health & Safety Protocols
At TreeRush Adventures, the health and safety of staff and guests is our top concern – especially as we think about providing adventure escapes during times like these. With this in mind, we've developed procedures based on guidelines from state health department and government officials and on recommendations by the Centers for Disease Control and Prevention. We've set strict standards so you can feel comfortable as you join us in creating an adventure that will help you get exercise, reduce stress, and experience the beauty of the great outdoors.
First things first: follow healthy habits
The state of Nebraska's Directed Health Measures for our community requires social distancing. People who have stayed safe together during the last few months should continue to do so. When you come with your "safety unit" to TreeRush Adventures, please maintain a 6-foot distance from members of other "safety units." Nebraska additionally prohibits gatherings of more than 10 people in compact spaces. As your "safety unit" moves through the park, please be mindful of this. And of course, remember these healthy habits promoted by the CDC: 
Stay home if you feel ill, especially if you have a fever or cough or if you are experiencing fatigue, shortness of breath or difficulty breathing.

Wash your hands frequently with soap and water for 20 seconds.
(For the convenience of guests and staff, we've added several hand-sanitizer stations.)
Cover your cough or sneeze with a tissue and throw the tissue in the trash. If you have no tissue, cough or sneeze into the bend of your elbow.

Avoid touching your eyes, nose and mouth.
Our TreeRush Team is committed to you
We're very proud of our dedicated team of professionals. Of course, you'll find they deliver the same service you've come to expect. You'll be amazed by their commitment to helping you find your comfort zone in our changing world. As a courtesy to guests, they've agreed to do the following:
Staff members will stay home from work if they feel ill. 

All staff members will strive to maintain 6 feet of personal space between themselves and others.

Just in case there's a surprise encounter, all staff has a mask ready to wear. As a heads up, they will need to enter your personal space when checking harness fit or if you need assistance when climbing in the park. Before doing these things, our staff may utilize additional personal protective gear.

All staff members have been trained to follow rigorous processes for cleaning and disinfecting high-touch surfaces and for cleaning and disinfecting guest harnesses and climbing gear between guest uses.
Please help as we open our doors for the Season
We're all in this together and we count on you to help us navigate our new world order. At a minimum, we need your help in the following ways.
If you have a fever or cough or if you are experiencing fatigue, shortness of breath, or difficulty breathing, please stay home and visit us when you feel better. We can easily reschedule your visit or provide a refund if you prefer.

 Masks are now optional for our guests when indoors, and while in the park. Masks are not needed while climbing. If you would prefer to wear a mask, we can provide one for you. 
preparing for your TreeRush Adventure
We have reduced the number of people who can make a reservation during each check-in time to limit congestion. To streamline the check-in process, we want you to be aware of these things.
Advance reservations are strongly recommended. You can make reservations online or call our office at 402-316-7038.

Please bring gloves suitable for climbing. Don't worry if you forget your gloves. We can sell you a pair but no longer loan used gloves to climbers. 

Please make sure you are wearing closed-toed and closed-healed shoes. Flip-Flops, Crocs, and sandals are NOT allowed while climbing.

Complete and submit our waiver – when you make a reservation, you'll receive the link when you complete your reservation.

Please bring enough water to stay hydrated during your climb. Water bottles may be placed in a storage cubby. We now offer water refill stations located throughout the park.
What to expect when you arrive
All will seem pretty normal when you approach the front doors of the Fontenelle Forest Nature Center. You'll see that the entry to TreeRush Adventures is to the left of the Nature Center's Main Entrance – down a wooden bridge that leads to the building's Atrium. Help us keep this pathway free of congestion by following these steps.
If you haven't made an advance reservation, please do so before you start down the boardwalk. You can do this online or by calling

402-316-7038.

If you haven't

completed waivers before arrival, please do this while you wait to check in.  

Please remember to move with your "safety unit" as we guide you through the process of getting into the trees. 

Once you've checked in, staff will guide you into the park. We've modified our harnessing, briefing, and practice procedures.
With all these changes, one thing remains the same….
We are dedicated to providing you with memory-making fun with the people you care about most. Our staff continues to be driven to help you Feel the Rush!