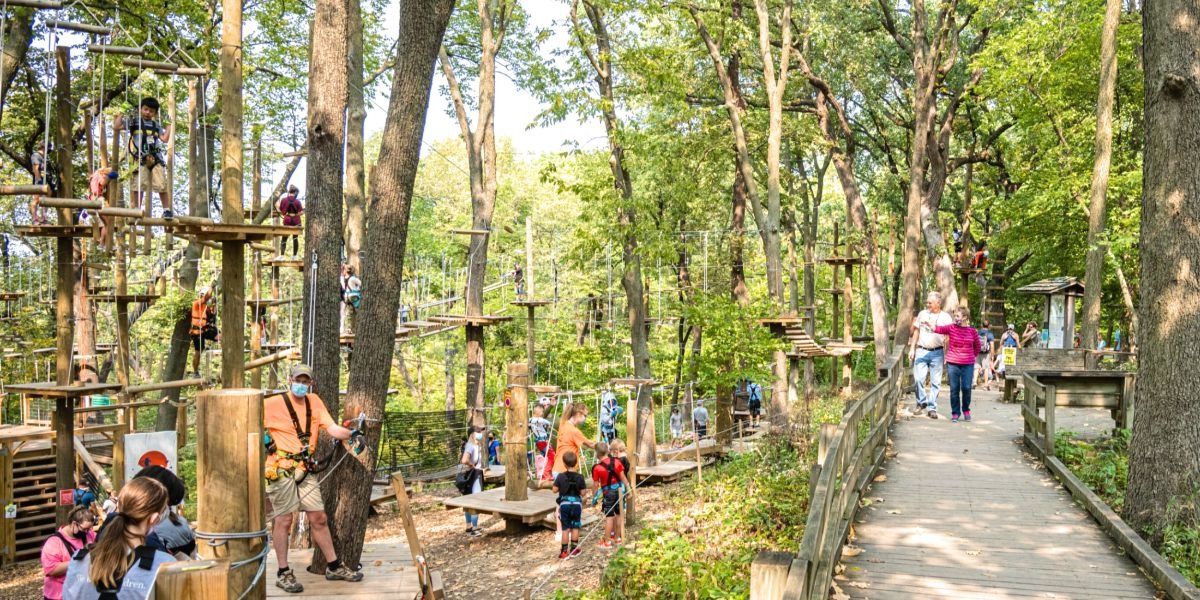 Independence Day Story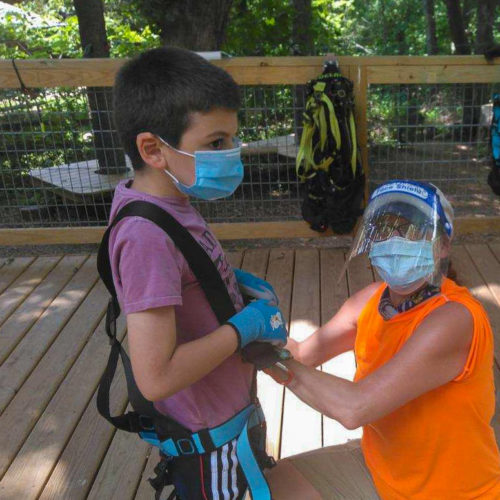 The Fourth of July – a day to remember our forefathers' Declaration of Independence from Britain. We celebrate our collective tough-mindedness as a nation and recognize this characteristic in individuals who overcome overwhelming odds. Today, it seems fitting to share the story of Christy Reeves, a tenacious member of our adventure park team who will celebrate part of Independence Day during a shift at TreeRush Adventures.
A Personal Pursuit of Independence
Here, then, is Christy's story:
A little over 4 years ago, I was in a wheelchair. In 2009, I was given two types of fluoroquinolone antibiotics for sinus and kidney infections. I ended up in the ER and then I started having hearing loss. Then came back issues.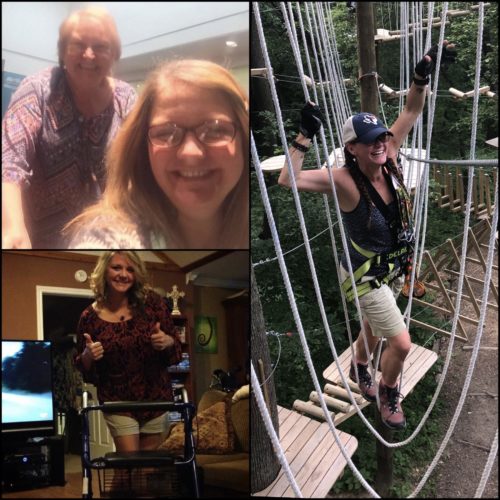 And then, tendon and ligament issues. I had five back surgeries, two leg surgeries, and an ear surgery. In addition, I was having seizure type episodes that the doctors could never explain. I couldn't drive. I couldn't stay by myself. After being diagnosed with Graves' Disease – with a corresponding high probability of cancer – my doctor recommended a thyroidectomy and radiation treatments.
I decided against this course of action. Instead, I chose to eat foods specifically for thyroid health. My doctor laughed at me and told me I would be back in six weeks, begging him to put me on medication.
This October marks five years since I walked out of his office. And I haven't seen a medical doctor since. I changed my diet. I sought the advice of a woman who practices Traditional Chinese Medicine and added fermented foods and basic vitamins and minerals. Within a few weeks, my seizure episodes went from several a day to one or two a week and finally to none at all!
When I took my son and husband to TreeRush last Thanksgiving, I could barely keep up to take pictures on the ground. I was still using my cane at times. But we left that day and I told David and Bub that I was going to train over the winter to get strong and I was going to get a job at TreeRush!
And I did just that. I worked every day to get stronger. Then, I applied and I got the job!!! I signed up to be a Park Host and to go through Basic Monitor Training. However, I accidentally walked in for Advanced Monitor Training – when employees are taught technical skills for helping people who require lowering from challenges up to 55 feet above the ground.
The Business Operations Manager said, "You want to try it? You can!"
And, the course manager said, "Go see if you can climb a blue."
AND I DID!
Blue trails require a high level of strength, balance, and stamina. Imagine the sense of pride I felt when I finished that trail! Since then, however, I've even climbed the most difficult course at TreeRush: Nighthawk!!! Several times!!!
TreeRush is my sanctuary and in that quiet forest, I find strength and power.
Celebrating Life Every Day
While Christy has only recently joined TreeRush, she has become an integral team member. Joe Henry, course manager, says she takes in the movements of guests as they explore the park, anticipating what they might need and picking up on how they're feeling. "She has a remarkable ability to talk with people and provide them with the words they need to think through tricky patches," says Joe. "She celebrates life on a daily basis, and she pulls in other people to celebrate life with her."
Independently explore TreeRush trails using always-locked-on climbing gear. Purchase tickets by clicking here.
Check out other TreeRush blog posts by clicking here