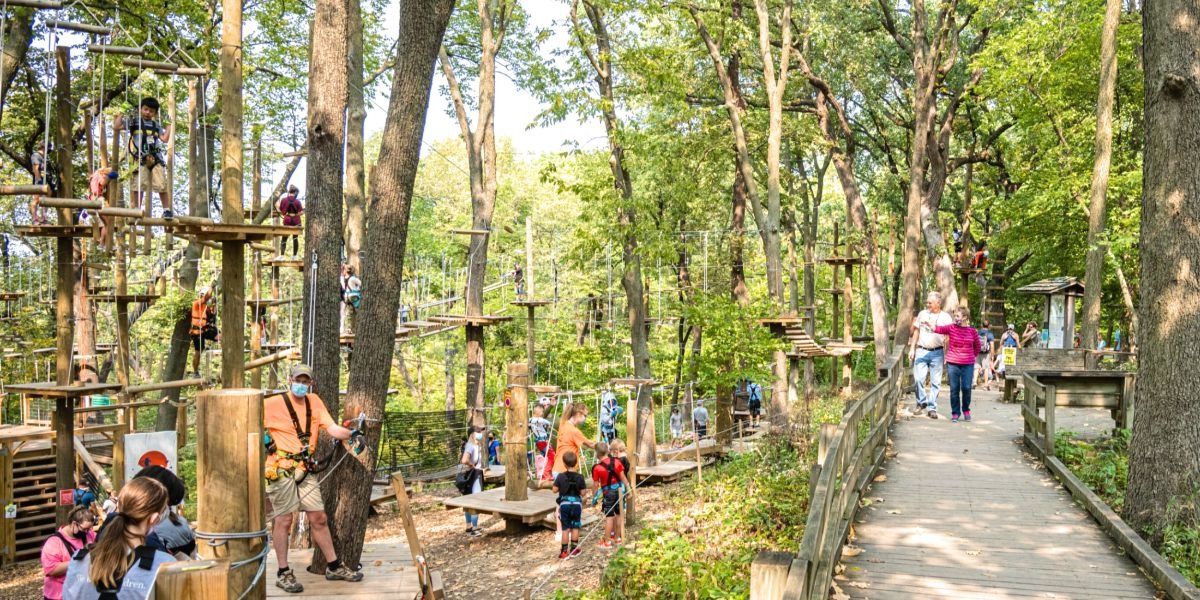 Venture Out to Find Friends: Watie White Murals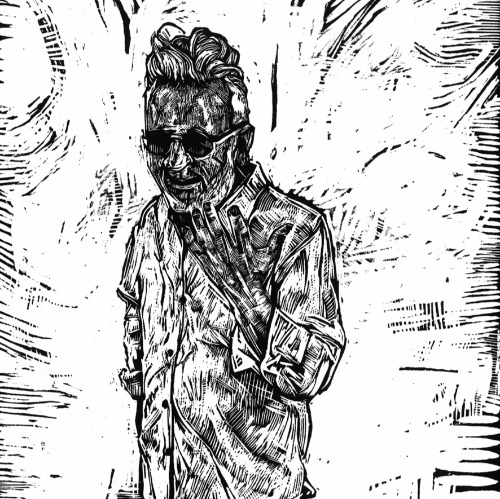 Stroll through the Blackstone neighborhood. Or Benson. Or maybe the Vinton Arts District. Chances are, you'll stumble upon one of Watie White's friends, and you won't EVEN have to think about socially distancing from them. White's murals are found throughout the Omaha metro area, and we've created a scavenger hunt grid to help you find them. Venture out this weekend to discover White's murals, and to become inspired for Giving Tuesday on May 5.
White, a painter and printmaker, began his "100 People" public art initiative in 2016 to showcase people of Omaha who have inspired him. The people depicted in White's murals are anything but socially distant. Most have a passion for social justice and have been highly involved in community action. Among his friends are artists, performers, writers, activists, and academics. So far, White has created 60 murals and we've included 20 in this tour.
People you'll Meet on this Venture Out
Stop by Vis Major Brewing Company (near 35th & Center) to meet Ferial Pearson. Her work inspires students to become "Secret Kindness Agents." As a teacher at Omaha South High, Ferial asked White to design a book cover for stories by her students. Soon after meeting Ferial, White discovered her vision was bigger than one book. Now, students of all ages and throughout the country become Secret Kindness Agents, dedicating personal time and energy to performing anonymous good deeds. Through involvement in this program, students realize their small positive interactions with others can dismantle bully/target relationships. (It's ironic that Ferial's portrait is at Vis Major because the activist is a devout Muslim who doesn't drink alcohol.)
After visiting Ferial, swing by the University of Nebraska Medical Center's Midtown Health Center (near 40th & Farnam). Dr. Ayman El-Mohandes (pictured above) will greet you at the staff entrance. Ayman is the former dean of Public Health at UNMC.  He now guides public health policy as the Dean of the Graduate School of Public Heath and Health Policy at the City University of New York. Throughout his career, Ayman has focused on issues involving childbirth and motherhood. As a result, his work has been credited with saving millions of lives. These days, Ayman plays a leadership role in NYC's Covid-19 response and often joins Governor Andrew Cuomo for press conferences. "He makes the world feel a bit smaller and more intimate," White said. "Seeing him in this time is incredibly reassuring."
Your guide to finding Inspiration when you Venture Out
In addition to Ferial and Ayman, you'll find 18 additional inspirational Omaha community members in the grid below. Stop into Benson and you'll find Kabin's portrait on the Cavanaugh Law Building, or Reggie by the Petshop Gallery. Kabin is an artist and musician and poses with his tuba. Reggie is a spray paint muralist who grew up in the neighborhood. (You'll notice that all Benson portraits have a mint green background.)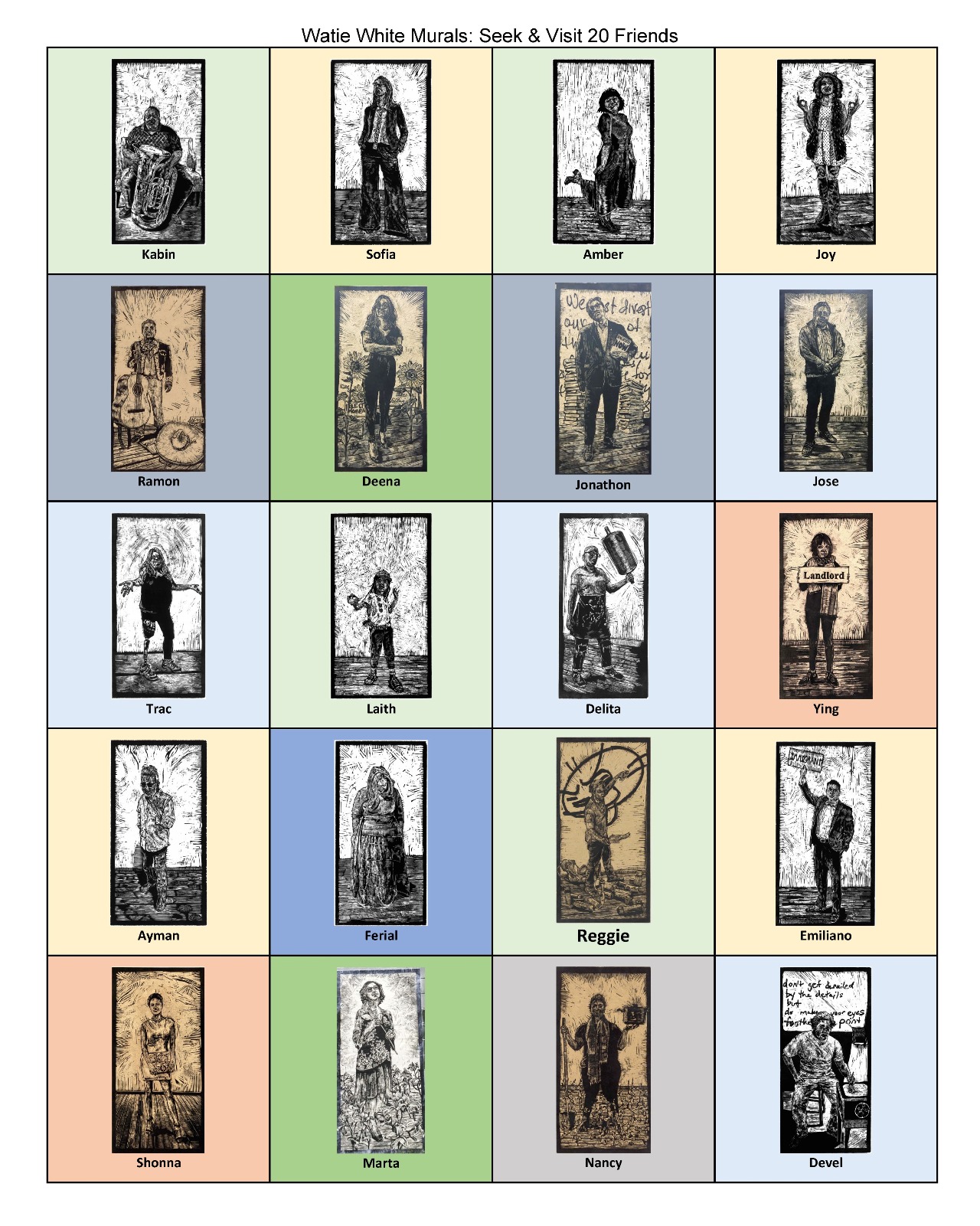 After poking around Benson, head over to Blackstone. Outside the backdoor to Stirnella Bar & Kitchen, you'll find Sofia, an outspoken advocate for women's rights and public health policy change. Walk into the alley behind Mula Mexican Kitchen & Tequileria to check in on Emiliano, an advocate for immigrants and refugees. 
A few hints for Finding Portraits
The people in all 20 portraits included in this walking tour of Omaha have interesting backgrounds. The grid below tells a little about each person. You can print it and use it as a reference on your scavenger hunt. At the end of each description, you'll find the streets that intersect closest to those portrayed.
White's Creative Process
To create portraits for this public art display, White invited his subjects to his studio. He asked them to choose clothing and to pose in a way they thought best captured their view of their role in the world. White draws and then carves a woodcut of his models. Then, he prints their images on the panels he installs throughout Omaha. On his website, White said he reminds his friends that their portraits could be viewed for many generations by people who might wonder about their view of the world. 
We hope this post provides you with a fun way to get to know the people of Omaha who have been immortalized by White's work. When you find one of White's friends, post your picture to our Facebook page and tell us a little about you. 
For more ideas about venturing out, check out our blog. 
Written by Watie White & Kema Geroux