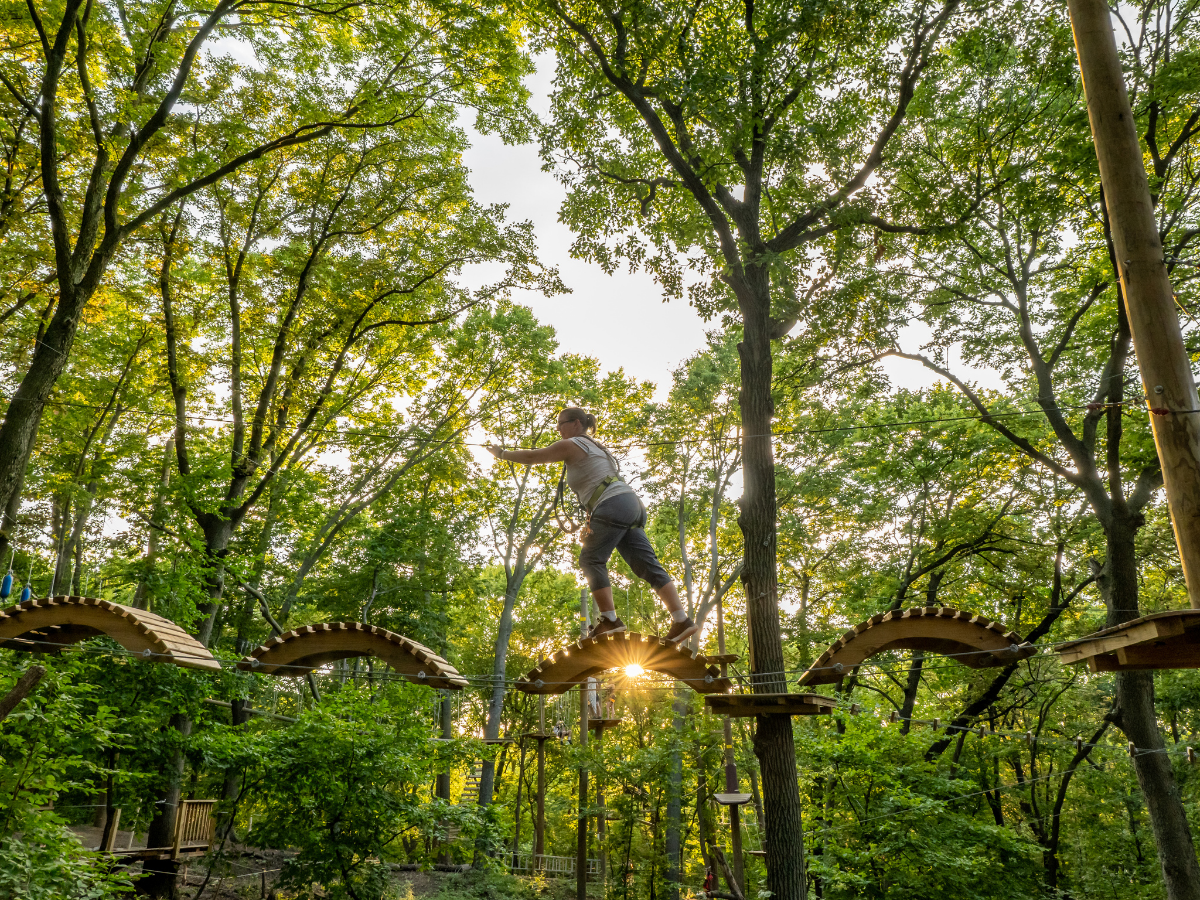 Celebrate EArth day
Capture a Forest View while Climbing and Zipping Through the Treetops
Thrill-seekers ages four and up discover climbing and zip lining excitement at TreeRush Adventures. park's two attractions – TreeRush Adventure Park and KidRush Adventure Park – include bridges, zip lines and swings made from wood, cable and rope just out the back door of the Fontenelle Forest Nature Center. Your adventure includes two hours of climbing after we get you into gear and you become comfortable using our always-locked-on climbing equipment. Plan to spend about 3 hours with us – and make a lifelong memory.

TreeRush Adventure Park suspends over 6 acres just north of the Nature Center. After an equipment briefing, guests ages 7 to adult climb into a main tree platform where they can choose from 7 different trails that are color coded according to level of difficulty. Trails are marked beginner to expert. They consist of 100 challenging elements made of rope, cable and wood, and include more than 10 zip lines. The most challenging trails are up to 55 feet above the ground. Trails in this area are color-coded by the degree of challenge they offer. Most guests start with a yellow or green trail before they take on our more difficult routes. These trails are named after birds commonly found in Nebraska: 
????  Meadowlark & Goldfinch;
▲Green Heron & Kestrel;
 ????  Peregrine Falcon & Osprey; &
◆Nighthawk (our most challenging trail)
KidRush Adventure Park is a climbing area like our signature park but built to scale for younger climbers ages 4 – 6. It includes two trails with 16 challenges for kids to do again and again. In KidRush, trails are just a couple feet above the ground, allowing pint-sized thrill-seekers a chance to experience the joy of physical accomplishment while a guardian walks beside them. (Supervision is required by an adult age 19+ at a ratio of 1 adult for every 2 children.)
As a special Earth Day gift, Save $5 for up to 8 tickets when you Reserve Adventures below.
Use use Promo Code LoveEarth21 at checkout.
(Code expires Dec. 1, 2021 and cannot be combined with other special offers or promotions.)
Want to know about our special events and promotions?
Sign up below to receive "Friends Only" offers.